At WearCat Creations, we only offer fursuit and part commissions for those buying a head or a head +. Check out our store for premades, ready built parts, and tools to build your own fursuit. Our premades are available at conventions first, and rarely make it onto our website. Check out our front page for our convention schedule!
Standards below are the standards of WearCat Creations fursuits and commissions as of 11/24/2023 and moving forward. Fursuits made before this time may have had slightly different methods of construction used.
Common Materials Used: Neoprene, Lycra, Stiff Felt, Foam, PLA, ABS, Fleece, Minky, Faux Shag Fur, Faux Beaver Shag Fur
Heads
At WearCat Creations, artist Amaretto Snow designs all of our headbases in house. While we use other suit makers' patterns for some of our paws/wings, all of our heads are only built on our bases. Heads are made from expanding foam or PLA/ABS. Our style is semi-toony with realistic and kemono influences. Please check out our gallery to familiarize yourself with Amaretto's work!
Our headbases are comfort lined and include a balaklava to wear underneath. This means exposed foam is lined, but the back of the head and neck are not. As a maker and fursuit wearer myself, I personally have found this method to provide the best in terms of wear, comfort, and longevity.
Both styles of headbase come with adjustable head straps. We will no longer offer balaklava style/fully lined heads.
PLA/ABS 3D Printed headbases - 
Hard base - handle with care
Lightweight with air holes
Zipper in the back - parka style zipper hidden from view
Lined foam edge for comfort
Static or moving jaw available
Sharper face angles easier to achieve
Foam headbases - 
Soft base - extremely durable
Heavier than PLA bases - still lightweight
Zipper in the back - parka style zipper hidden from view
Great for those who want to be soft
Static jaw only
Our bases are also offered in our shop, in case you would like to build your own fursuit. This is a great option for younger furs, or furs on a budget.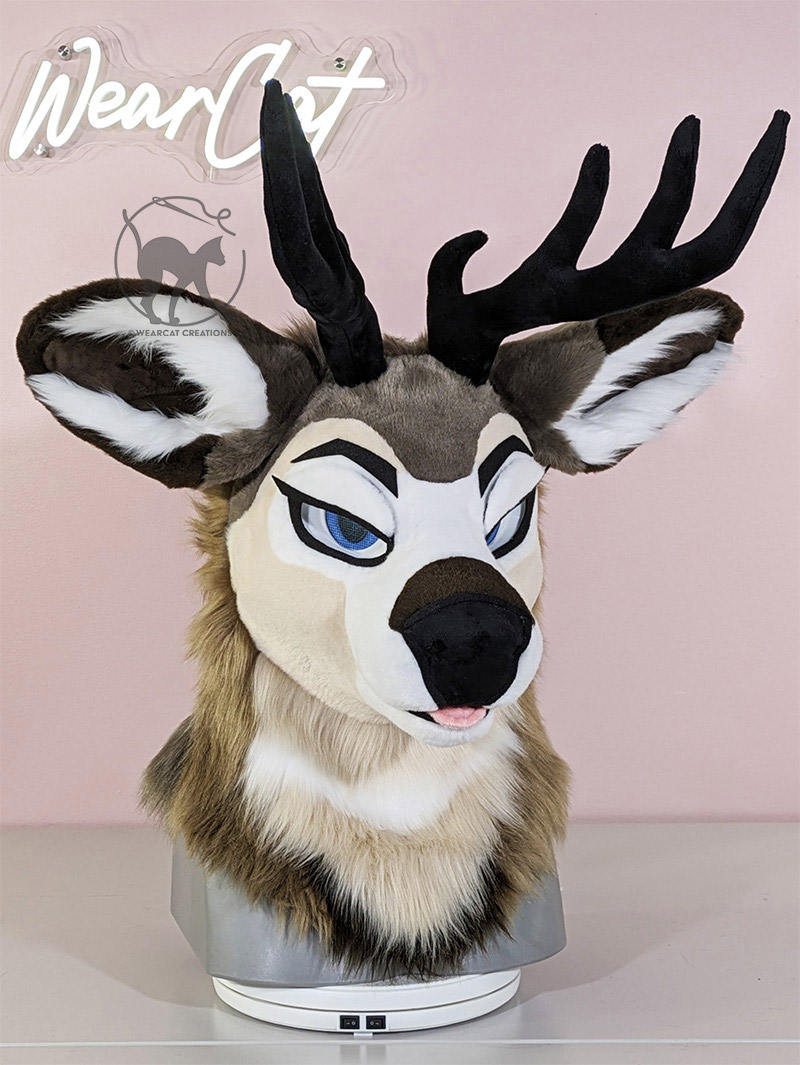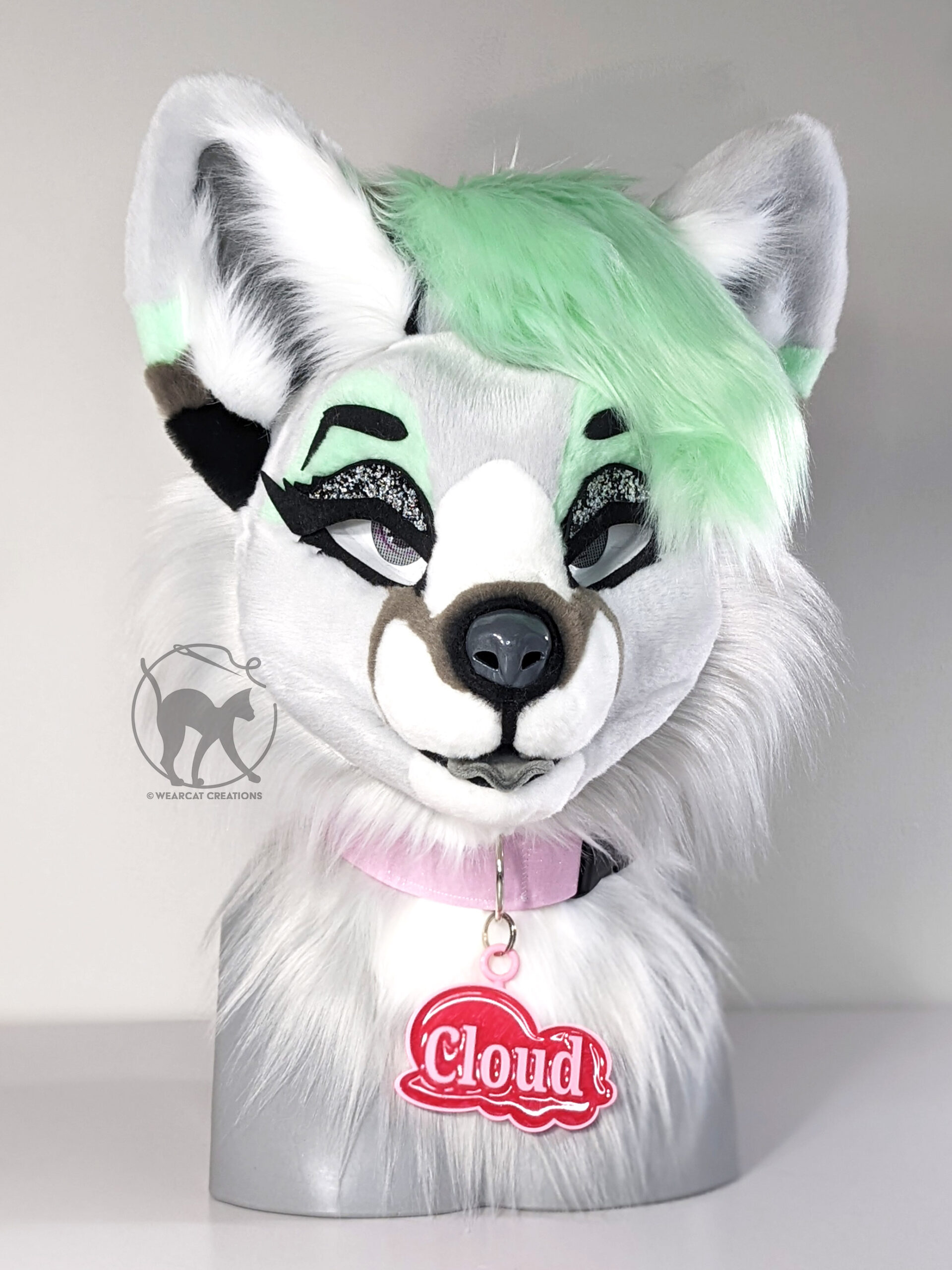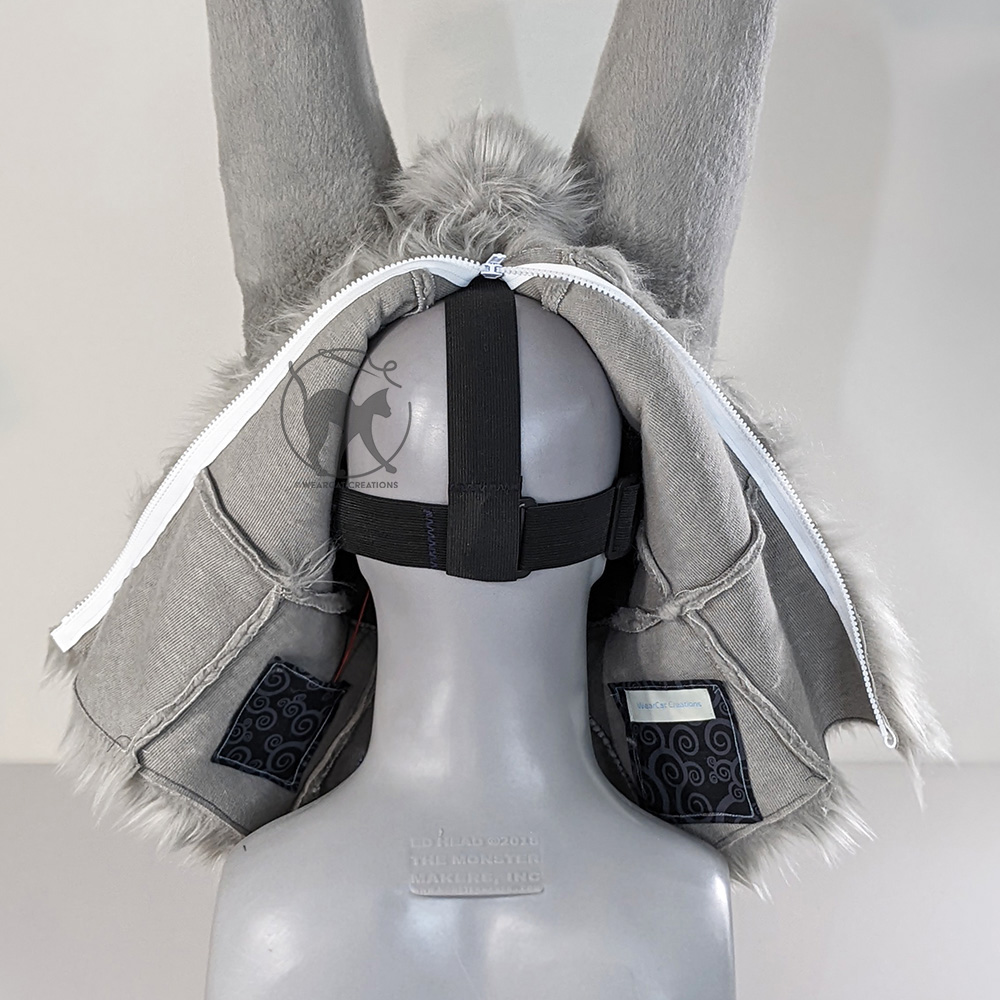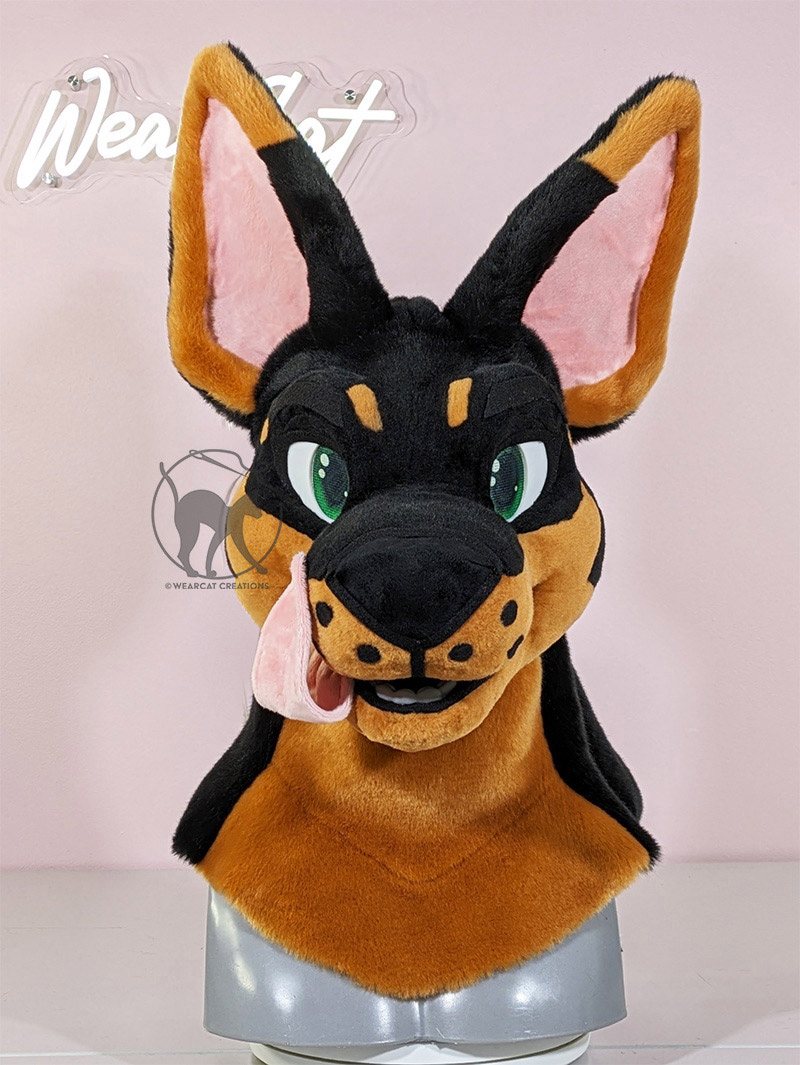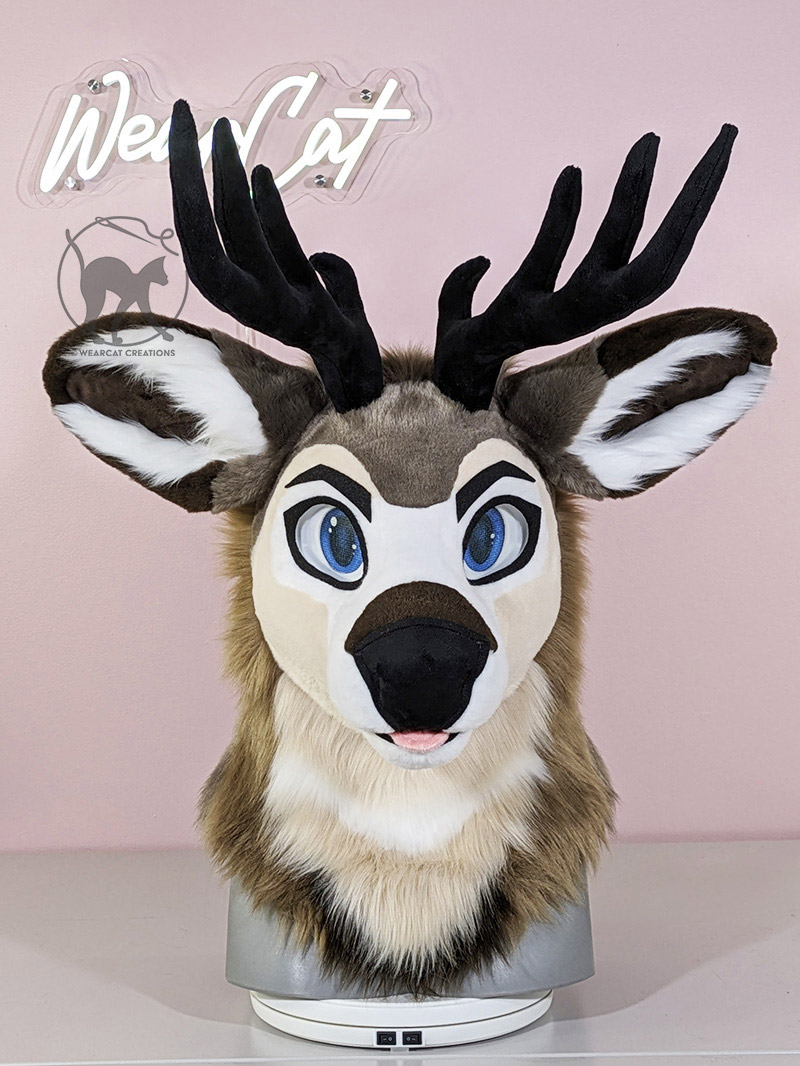 Eyes
Our eyes are available as both toony eyes and follow-me eyes. We 3D print our eye blanks from PLA or ABS. Toony eyes are excellent for capturing expressions, but result in a more static look. Follow-Me eyes are just that - eyes that appear to "watch" or follow.
Eye mesh is made from cotton or plastic. Eyes are sublimation printed from designs digitally painted by our in-house artist. Sublimation printing uses heat vapor to seal color in plastics. This results in eye mesh that can be scrubbed, soaked, scratched, and still won't lose its color or bleed!
We use a high density, lower visibility mesh. This results in brighter, more vibrant eyes as there is more space for color to hold. Let us know if you have visibility requirements that would require a high visibility mesh.
As far as fursuit visibility, our suits typically have an outstanding range of vision. There will always be a blind spot directly in front. The larger the muzzle of your animal, the bigger you can expect this blind spot to be. Eyelids or permanent expressions can affect visibility.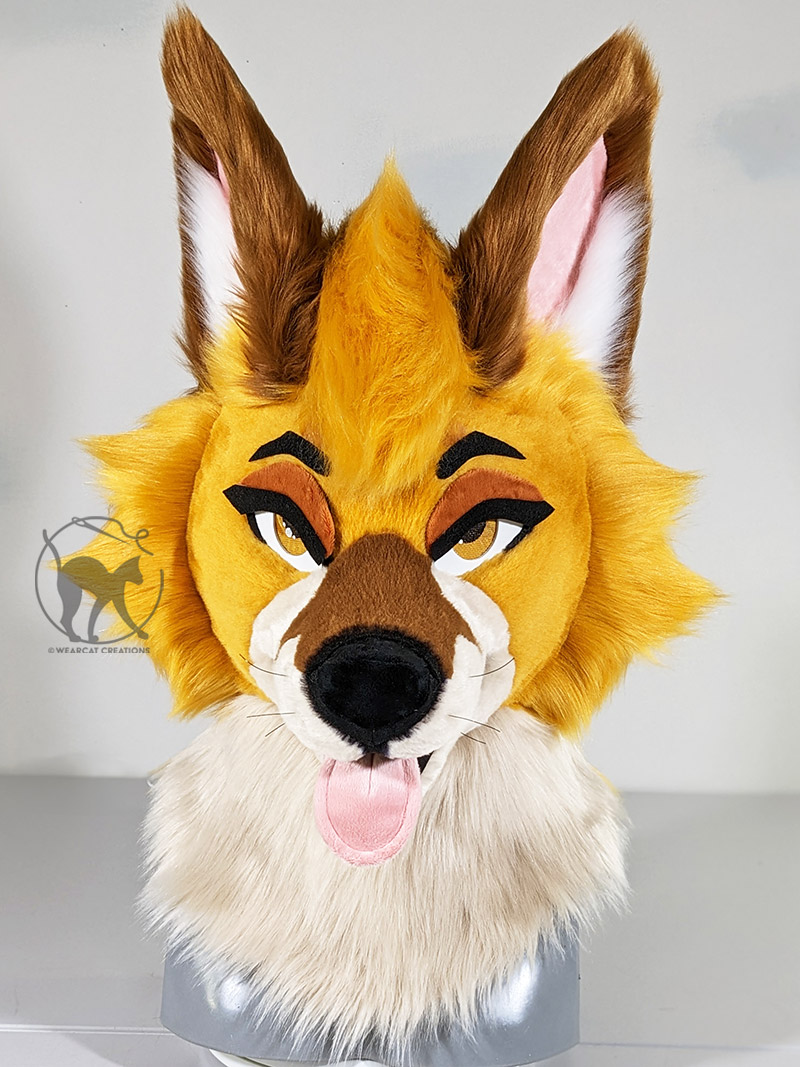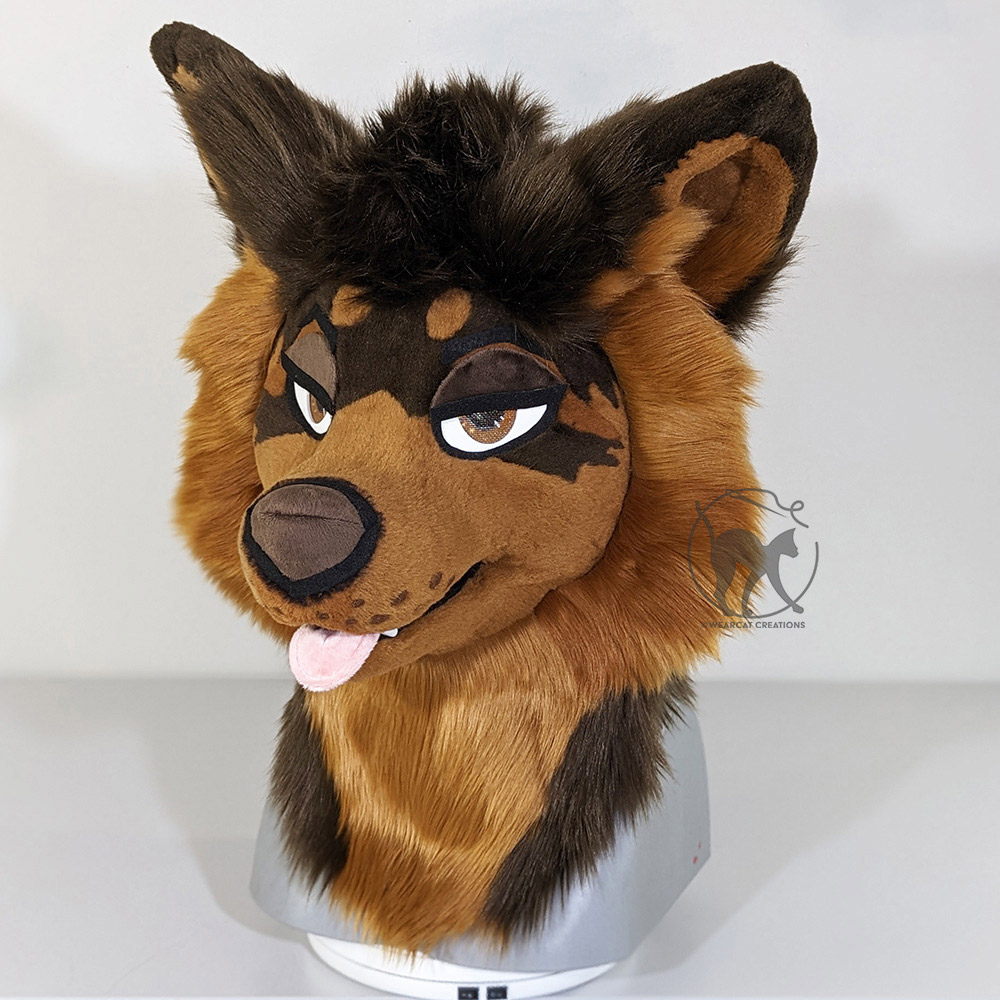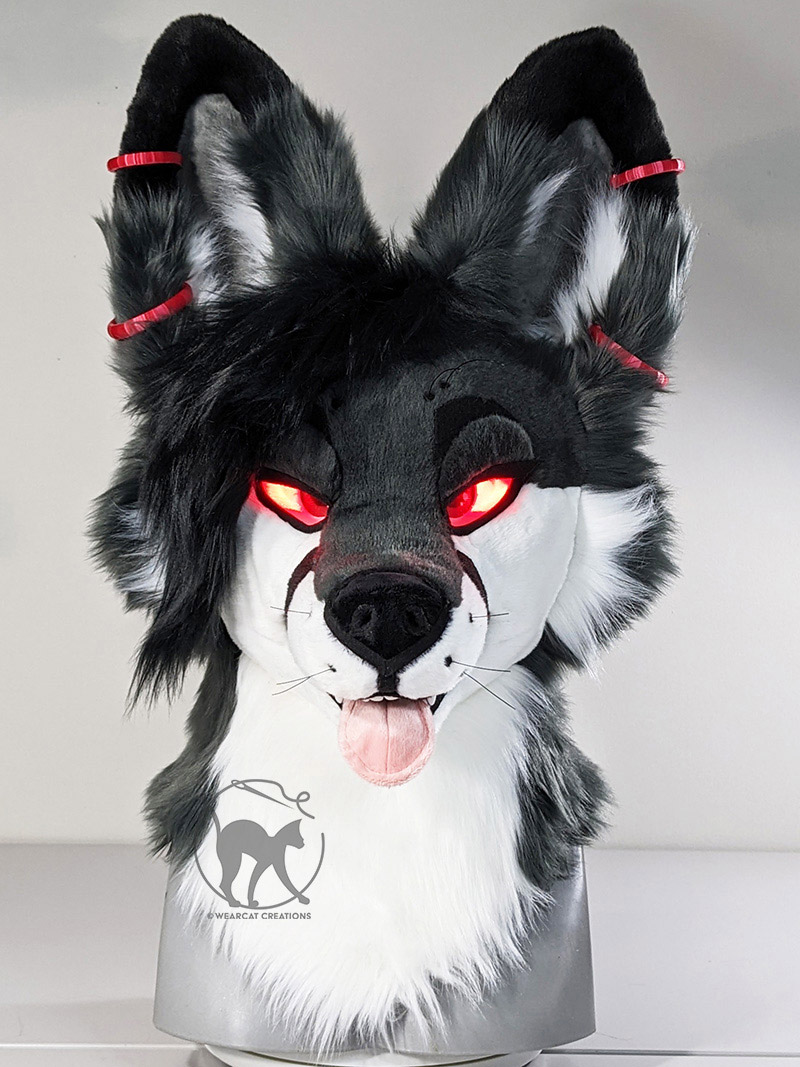 Eyelashes and Eyelids
Eyelashes and eyebrows are made from stiff felt and glued in place. The default color is black. Please let us know if you would like a different color. Eyebrows and eyelashes are approved before they are glued in place.
Eyelids are either built directly on our heads for a static expression, or removable for multiple expressions. Our eyelids can be made from fur, minky, beaver, fleece, PLA, or PLA and resin.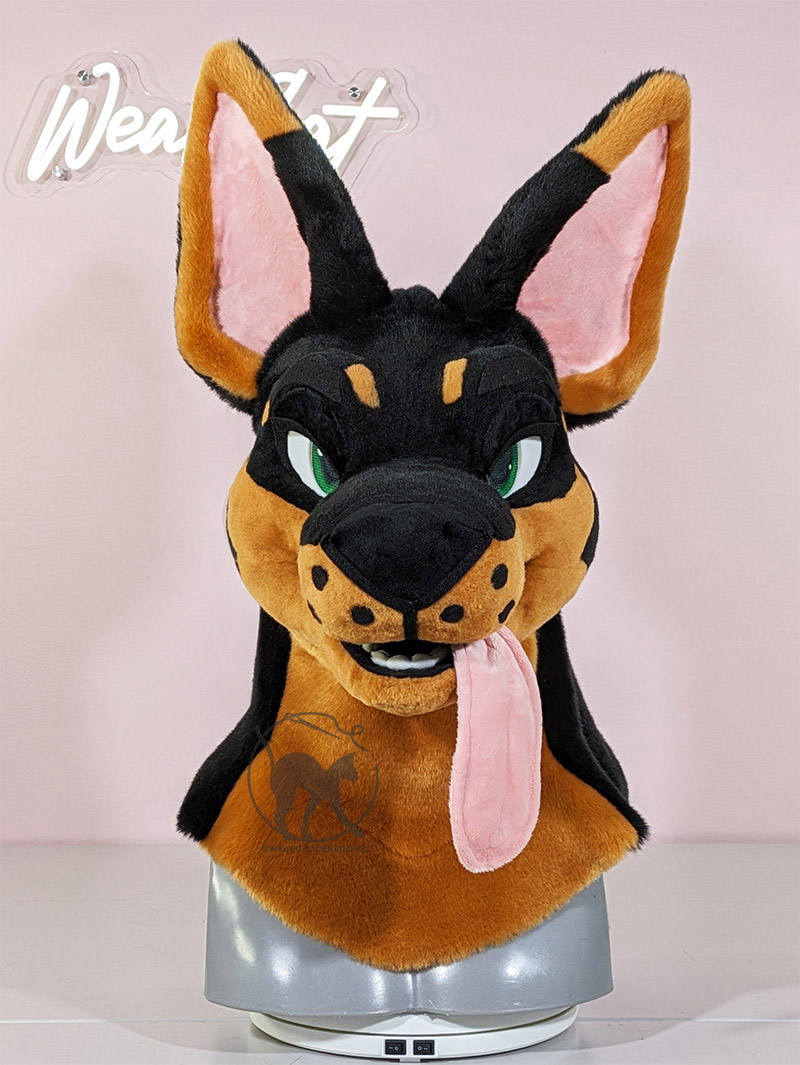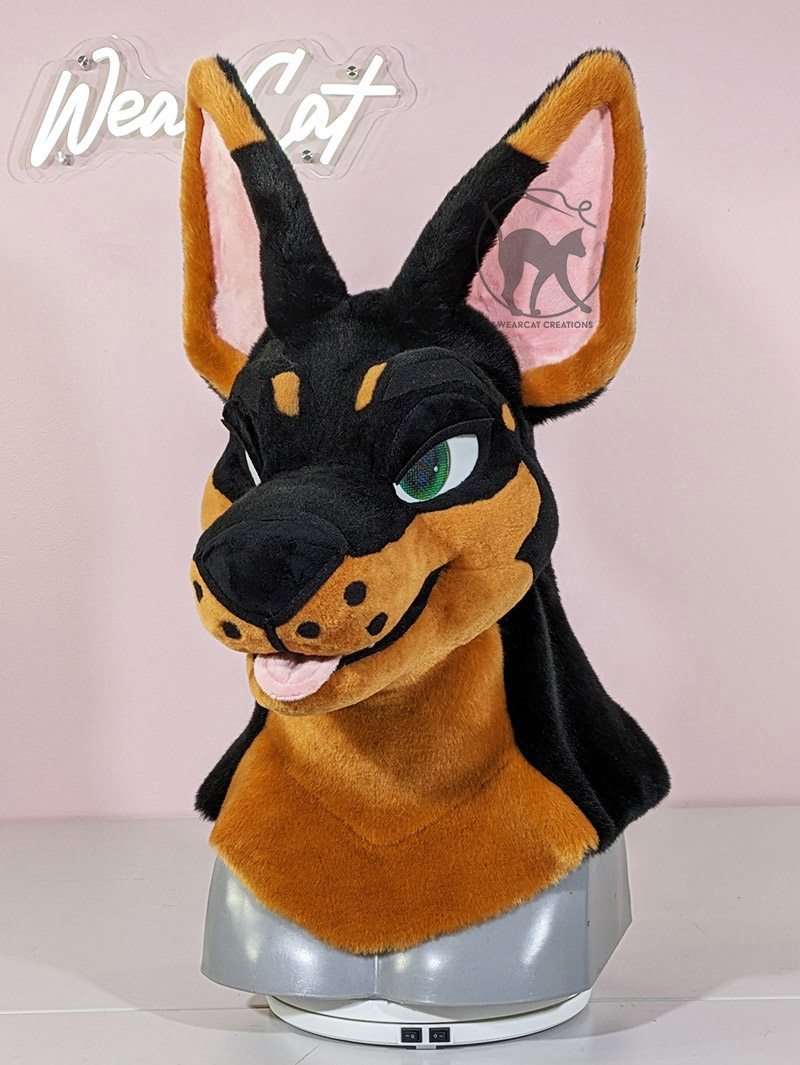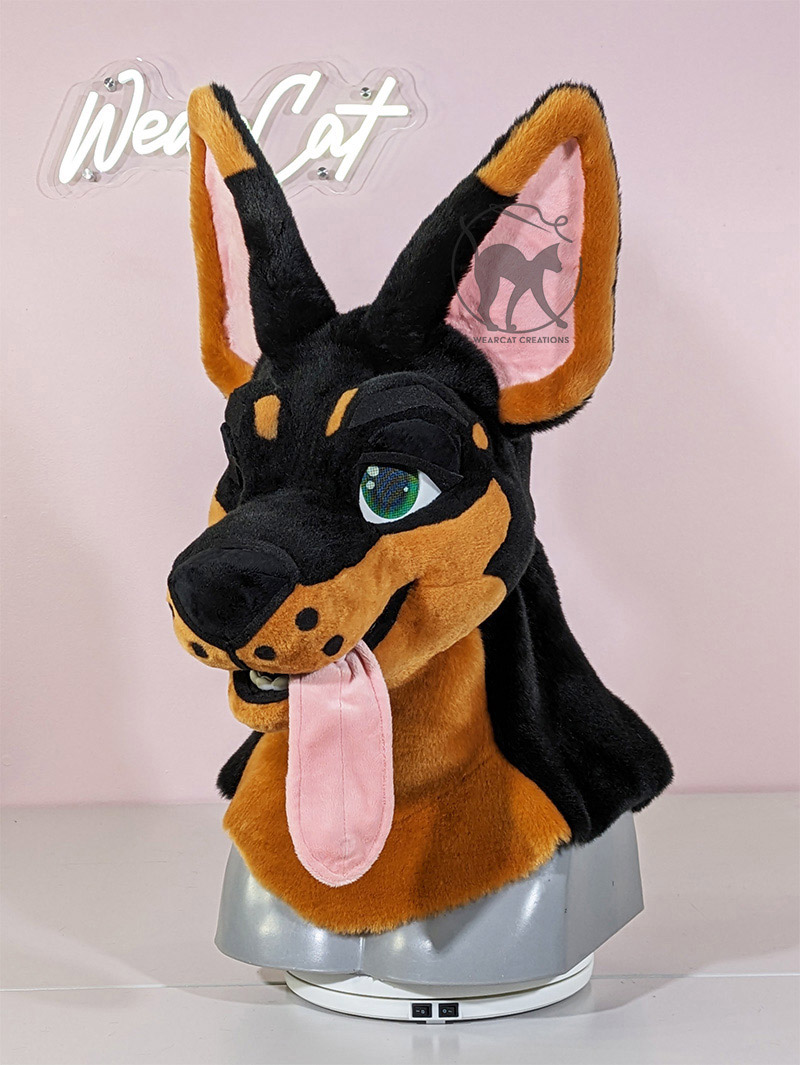 Antlers/Horns/Spikes
Horns, antlers, and spikes are available both soft and plastic. Please note XL horns and antlers can weigh down a fursuit head and cause neck fatigue. We recommend sizing down for comfort.
Plastic horns and antlers are made from PLA. These keep their shape and are more lightweight than soft antlers, but do not offer any give or bend and need to be handled more carefully. This is recommended for larger and more detailed horns and spikes.
Teeth and Mouth
Teeth can be made from PLA (plastic) or sewn from neoprene for soft teeth. Standard teeth include a bottom and top jawset, appropriate to your species. If your reference does NOT show teeth, and you expect to have different teeth than is standard for that animal, communicate that with me!
Either jawset type can be made removable.
PLA heads do not come lined with fleece inside the mouth, unless soft teeth are chosen as an option.
Our foam heads come lined with fleece inside the mouth - regardless of tooth type.
Noses
We offer both PLA/resin coated noses, and soft noses. Soft noses come standard toony with no nostrils. Nostrils are added to pickable noses.
PLA noses are painted and coated in resin to give them shine and extra durability. These noses are more realistic and hold more detail.
Both nose styles are available as "pickable" noses.
Finishing Touches
At WearCat Creations, one of our finishing techniques is to glue a strip of felt along the lip lines and around the nose. If your head is foam, the facial fur and fleece lining will be sewn together underneath this around the mouth. If your head is PLA, the fur is glued all the way to the edge, with the felt glued on top.
Final shaving and scissor trimming is one of the last steps, but takes longer than you think. Whisker dots/markings on the nose are typically made from felt, and are the last thing added to the face.
We also utilize dry brushing around the lip/nose to give a smoother look.
Tongues
Our tongues are made from minky. If a tongue color is not provided in the reference, a complimentary pink will be used unless otherwise specified. Tongues are removable and attach via velcro for extra staying power.
Looking for more tongue options? Just ask! We happily make XL tongues or multiple tongues with our suits.
Jewelry
We offer both PLA (plastic) and soft jewelry. Soft jewelry can be made from a variety of materials including, but not limited to, minky, vinyl, and fleece.
We offer magnetic jewelry as well as 'clip-on' jewelry. Our tongue studs are magnetic and fit most fursuit tongues.
Our resin plugs are magnetic and removable.
Mini Partials
Mini partials are a step up above our head only option. They are a great way to really get into character, and are perfect for first time suiters!
Hands/Hooves
We have both in-house patterns we make and use, as well as other makers' patterns for hand paws. Check out our "About Us" page to find links! Do you want a certain paw pattern used for your suit? Let us know! Our go-to pattern for paws is Kloof Suits' pattern.
Our paws come with a bias tape lined edge. The inside is unlined for breathability and comfort. All paws come with finger pillows - these can be removed for easy washing/storage! With your fingers inside the paws (or hooves!), the pillows will stay in place.
Paw pads and beans are embroidered and stuffed for extra puffiness. We typically make pads and beans out of minky. If you want a different material, let us know.
Claws can be soft or plastic. Soft claws can come in minky, vinyl, lycra, neoprene, or fleece. Plastic claws are sewn and glued in. Once they are in place, they are not easily removed. Please check our shop to see different sizes currently offered!
Arm Sleeves/Wings
Arm Sleeves are a great way to further get into your character without a fullsuit! Our sleeves are made standard, based on your measurements. These are not extra tight or form fitting. Arm sleeves connect to each other using an adjustable harness. This ensures they do not slide down your shoulders.
Wing sleeves are made using a pattern we developed off a few wing patterns. All of our patterns we've used can be found in our "About Us". They can be made with or without hand escapes.
We are still experimenting with wing types and sleeves.
Tails
We make nub tails all the way up to floor dragger tails! Small and medium tails come standard with two elastic loops to slide on a belt. Heavier tails will come with heavier duty loops.
If you select a kidney-belt attachment, your tail will also be upgraded to removable with a zipper.
We are still experimenting with different harness style attachments for XL tails, specifically upright/wagging tails.
Partial Suits
Partial fursuits are the next step up in our suiting options. These come with all the options available in our mini-partials, plus footpaw/hoof options.
We offer both plantigrade and digitigrade style feet. Footpaws come lined with cotton batting and are slipper style. Indoor footpaws have a foam bottom interior for support, but cute fluffy paws on the outside and cotton batting on the inside. They are stuffed with polyfil and can be adjusted to fit tighter or looser. Outdoor bottoms show the foam bottom that is hidden inside the indoor footpaws. All footpaws have a hidden exterior zipper to adjust stuffing.
Can't decide on indoor or outdoor bottoms? We offer magnetic swappable bottoms. We also offer fursuit sandals to keep your indoor bottoms clean!
Shoes inserts can be added. These will be brand new garden style croc slippers. It is recommended to wear shoes during long wear, as the EVA foam bottoms are not true shoe soles. You are welcome to provide your own shoes as shoe inserts, all you need is a clean pair of comfortable shoes!
Claws and paw pads have the same options as hand paws.
At the moment we are still experimenting with our hoof paw options!
We use our own patterns as well as other makers' patterns for footpaws/hooves. Our standard plantigrade footpaws are based off of Sarah "Matrices" Howard's footpaw pattern. Our standard digitigrade footpaws are based off of SpiltGrapeSoda's knee high digitigrade pattern. Check out our "About Us" for more information!
Fullsuits
Full-suits come in both digitigrade and plantigrade options. Digitigrade bodies have animal shaped legs. Plantigrade bodies wear like coveralls. We are also happy to use a variety of short/shaved furs and longer furs to achieve the body shape you want. All suits come straight stitched with a reinforced zigzag seam as standard. They are not lined, and it is suggested you wear under-armour underneath.
Removable tails include extra stitching around the opening to prevent any over stretching. Zipper attached tails are also available! All of our bodies come with premium installed hidden zippers. They are located in the front of your suit so you can easily get in and out.
For digitigrade bodies, we currently use pillow padding. These are polyfil stuffed pillows that fit inside your suit. You can have them able to attach directly to your suit, but be removed for travel/washing/storage. All of our pillows come with a small opening so the polyfil can be adjusted as needed.
Plantigrade Fullsuit
Plantigrade fursuits fit like a pair of coveralls. The arms and legs are slightly tapered and are made to fit over our standard paws and footpaws.
Plantigrade fursuits are great for certain species, as well as those who aren't comfortable with wearing extra padding!
Digitigrade Fullsuit
Digitigrade fursuits give the appearance of standing on your toes, or "digits". We utilize a semi-slim style of digitigrade as our standard. This includes pillows in your thigh and butt area. Extra padding can be added to achieve different body shapes.
Our digitigrade suits come with built in pillow padding. These pillows are removable and the stuffing can be adjusted. Our suits are easy to pull on or off, and the padding stays in place!